Wealth Cultivation by Season
To our clients and community,
Happy new year!
At Created, we believe that cultivating wealth is an ongoing process. So as we begin a new year, we wanted to illustrate our framework for managing wealth throughout the seasons. This structure helps us ensure that your wealth continues to grow in alignment with your values.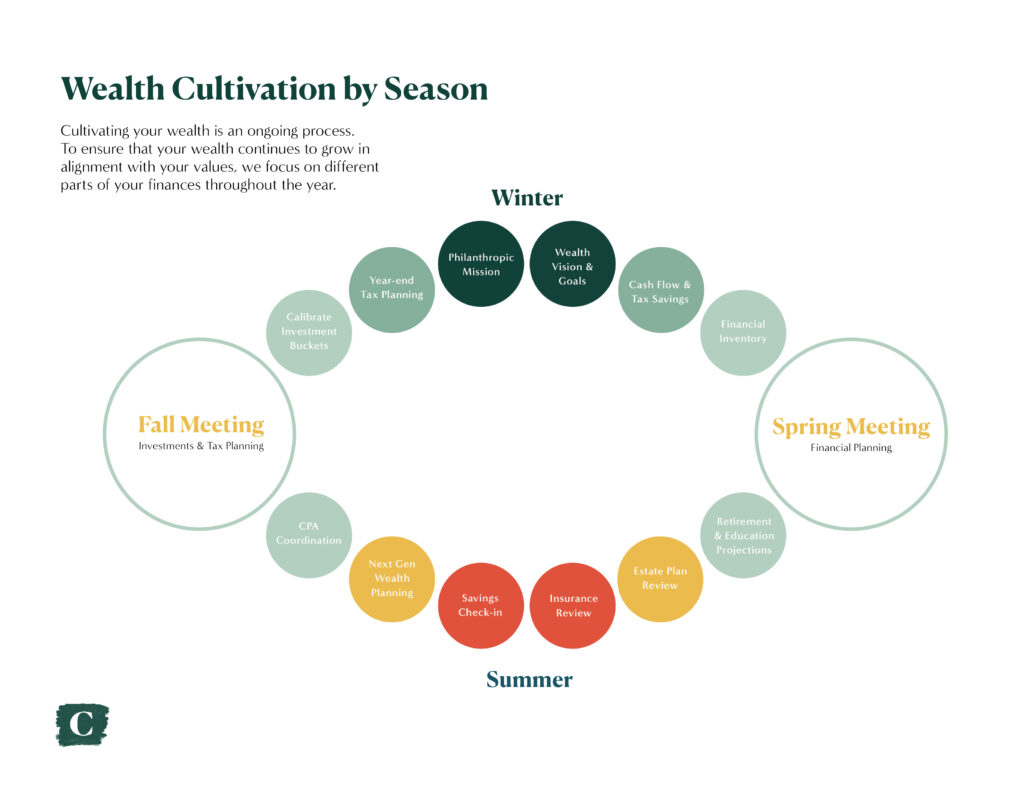 Each year, in addition to our own year-round planning and investment management, we plan two formal client meetings. In the spring, we discuss Financial Planning for the short term and long term, which helps us set our agenda for the areas of focus that make sense to address together that year. In the fall, we review Investments and Tax Planning, which often incorporates conversations about philanthropic mission and charitable giving. The spring and fall formal meetings often lead to area-specific follow-up meetings throughout the year to make sure that to-do items get done.


In addition to these meetings, it's important for clients to reach out to us anytime they experience a life or financial change (e.g. loss of a loved one, sale of a project or business, career or family change, etc.) so that we can connect immediately to strategize and calibrate our plans.


At Created, it is also a part of our mission to "share the wealth" by making transformative financial ideas more broadly accessible in order to cultivate greater wealth and financial health in our communities. For those in our community who are not currently Created clients, we hope that this framework will be helpful for staying on top of your own finances. Our website also offers a host of resources, including our video & workbook series "Your Wealth Garden," as well as past editions of "Thoughts From Created." We welcome you to explore, engage and enjoy!


In good wealth,


Your partners at Created



Would you like to receive Thoughts from Created?