Spring Cleaning Your Financial Life
To our clients and community,
Many of our new clients come to us with dusty file boxes (literally or figuratively) piling up in the corner of their home. They tell us that dealing with them feels overwhelming, emotional, and downright Herculean. This is a near universal experience.
One of our passions at Created is taking those dusty boxes and translating them into a clear, beautiful picture, so that you can understand what you have and make decisions with confidence. Financial organization is often especially daunting to address, but when you do, you'll feel relief, clarity and renewed power. Taking the first action is usually the hardest part — and spring seems like a fitting time as ever to begin this process, whether you are starting anew or reassessing a plan already in place. We've come up with a few steps to make this financial "spring cleaning" a bit easier.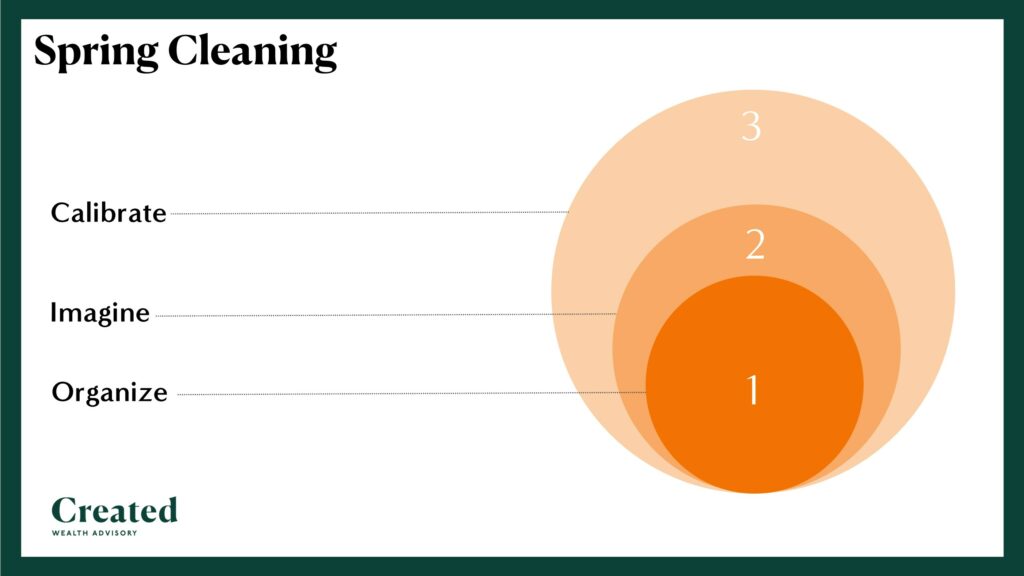 1. Organize
If you already have a financial plan: Take a look with fresh eyes. Are there any missing or new assets to add? Anything that's changed? We'll talk about this in our upcoming Spring meetings with our clients.
If you're getting started now: Fill out our Financial Inventory + Monthly Cash Flow charts. Having everything in one place is a big accomplishment!


2. Imagine
What does a fulfilling life look like to you? Think about two or three elements that are essential to bring purpose and meaning to your life — your vision of wealth. This could be anything from spending time in nature to quality time with the people you love or even picking up your camera, paintbrush or guitar again after many years.


3. Calibrate
Do your current finances align with the picture of wealth you imagined above? For instance, if rediscovering painting is important to you, do you have money set aside for art materials or classes? If education for your children/grandchildren is important to you, do you have a structure in place to make sure this happens?
If yes — Excellent! Time to celebrate.
If no — Can you redirect a little bit each month for your goals going forward?
And voilà! Spring cleaning accomplished. Congratulations! For our Created clients, we will be reaching out soon for our spring meetings to refresh your personalized wealth plan and respond to any changes in the environment. For others in our community, check out our resources at createdwealth.com/garden or reach out for a consult to explore your options. We're here for you.
Appreciatively,
Your partners at Created
Would you like to receive Thoughts from Created?